Metamorphoses Seminar: Introducing Mimetic Studies (October 2022)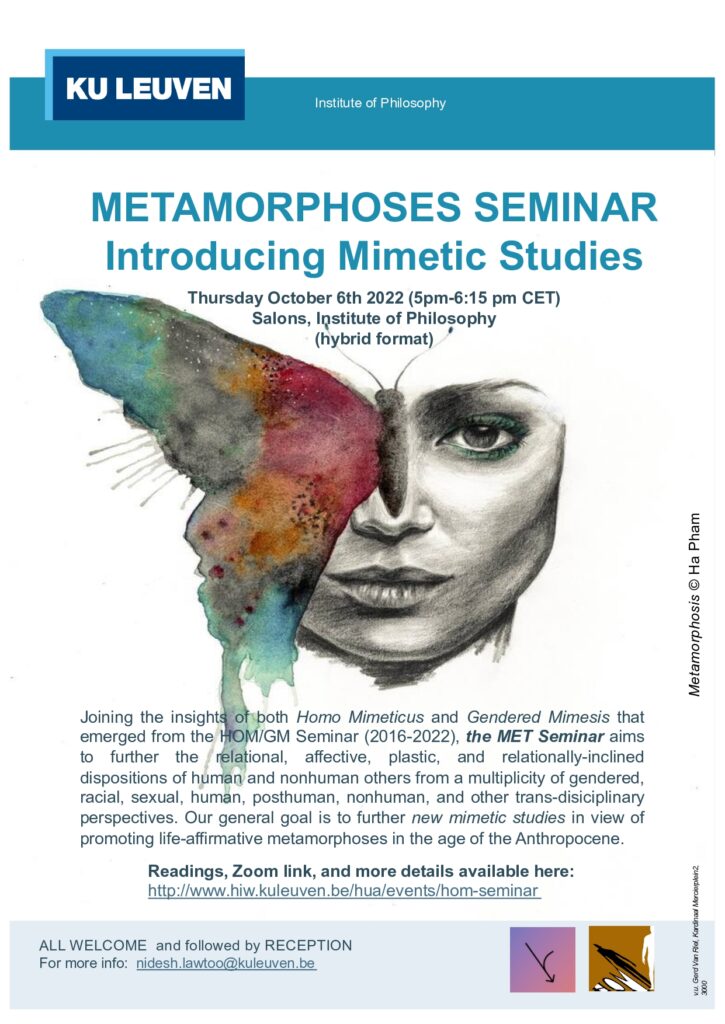 Gendered Mimesis: Rethinking Gender through Mimesis (June 3)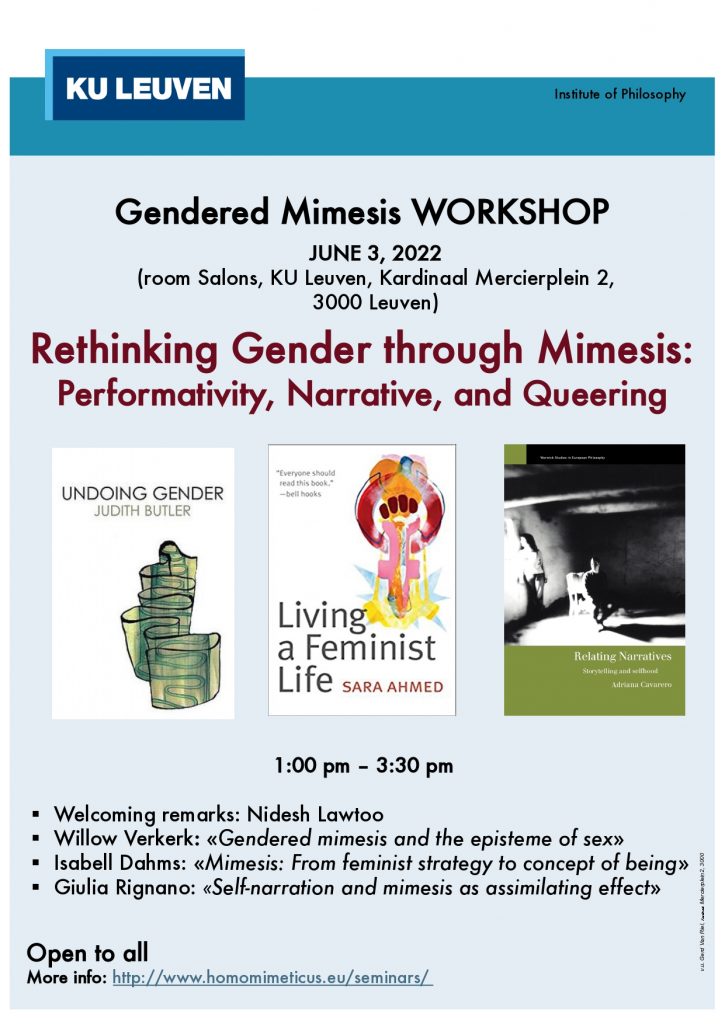 HOM Sem: Transformative Mimesis (June 3)
HOMO MIMETICUS: Nidesh Lawtoo @TEDx (May 6, 2022)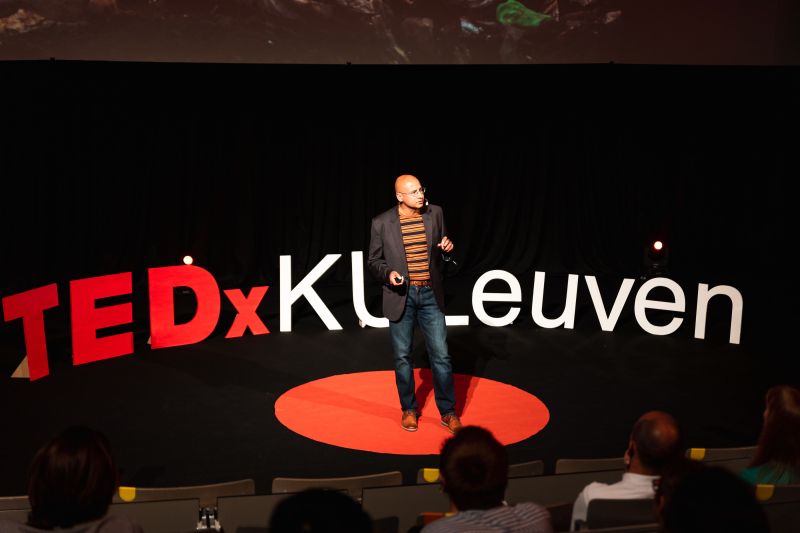 THE MIMETIC TURN: HOM Final Conference (April 20-22,2022)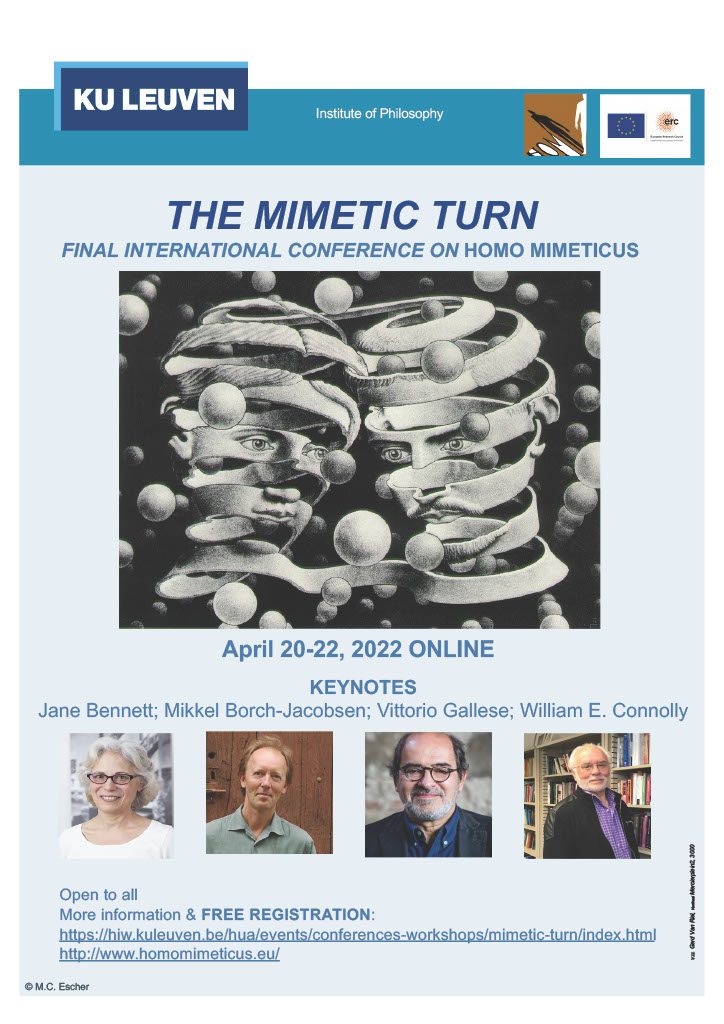 Willow Verkerk: Mimetic Inclination and the Limits of the Enlightened Subject (Sept. 28)
In this talk, GM team member Dr. Willow Verkerk proposes a mimetic return to the Kantian subject through the dissonant figure of the Marquis de Sade's Juliette. It brings together Simone de Beauvoir's reading of Sade and Adriana Cavarero's criticism of Kant to show that Juliette's sadism is a problem distinctive to the denial of mimetic inclination. It argues that Juliette position, as one legacy of the enlightened subject, requires us to take seriously the material implications of a human ideal who is uninterested in love.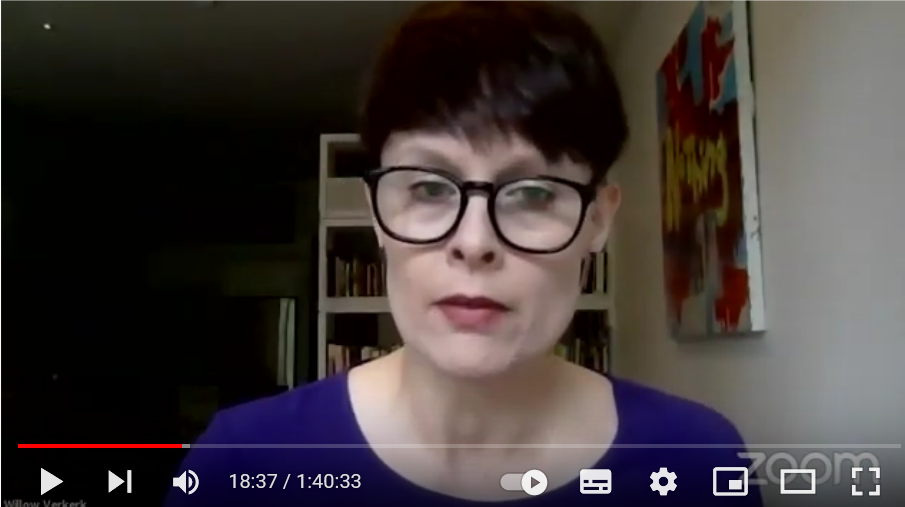 Video available here: https://www.youtube.com/watch?v=eR-dwW1y24c
Conrad and the Planetary, with William Connolly (Sept. 2021)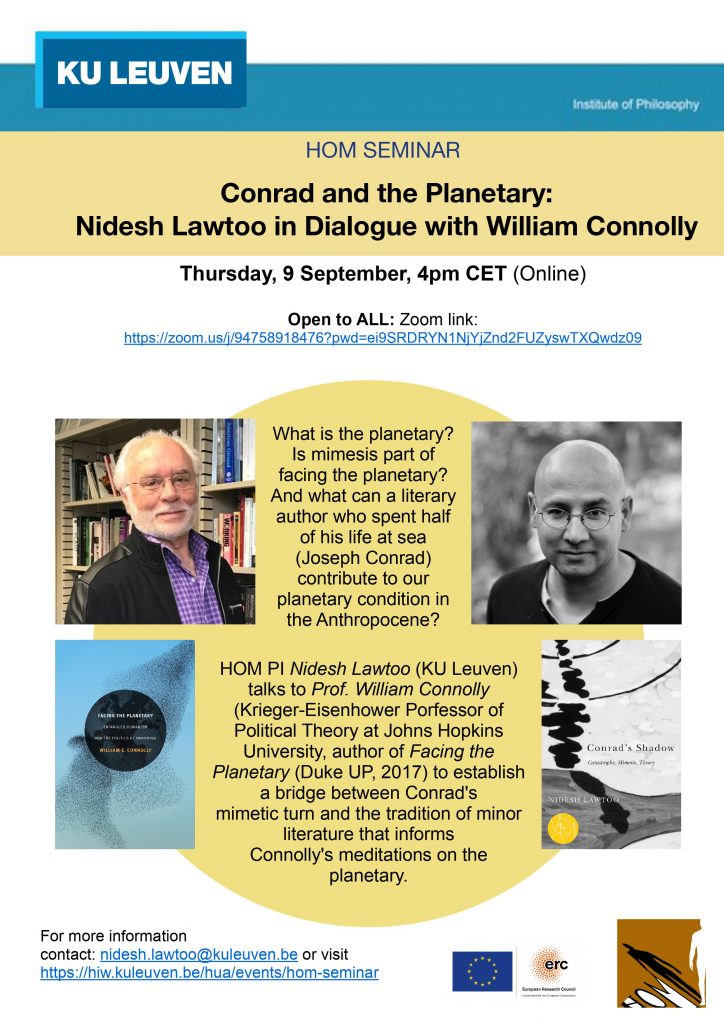 Gendered Mimesis: an Introduction (June 24)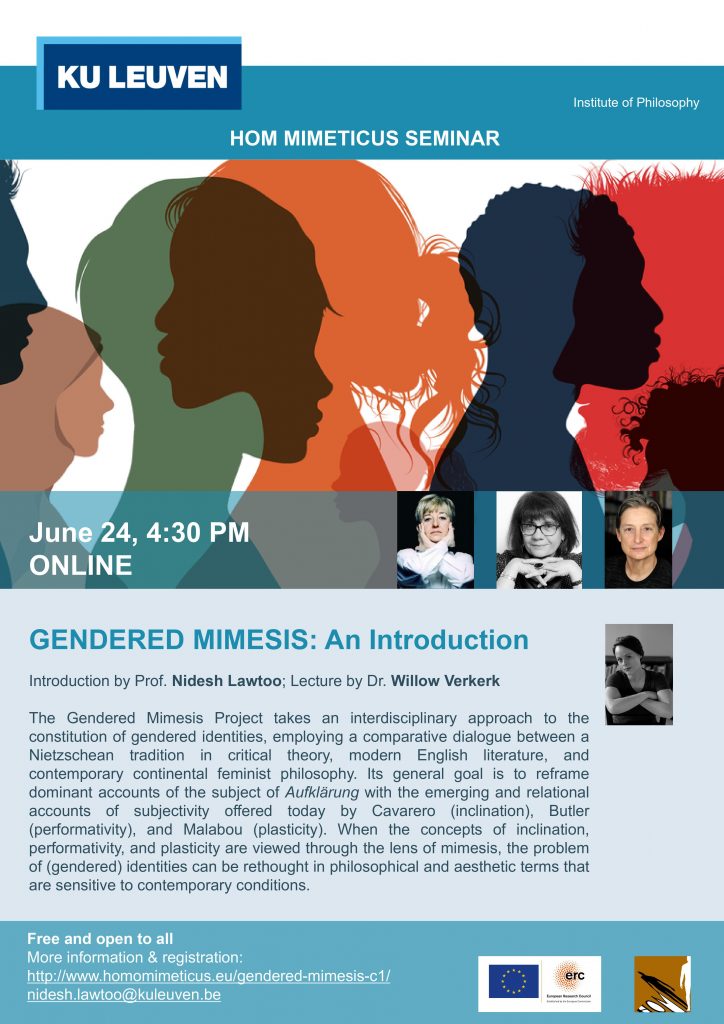 On Empathy & Aesthetics (STUK, June 21)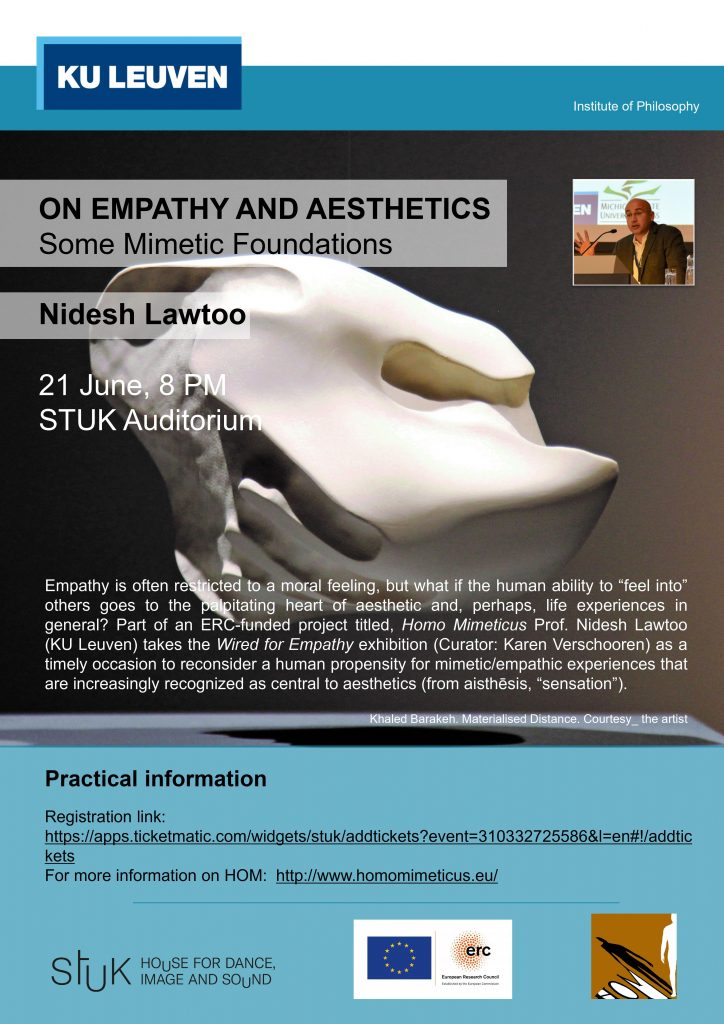 Posthuman Mimesis (May 20-22)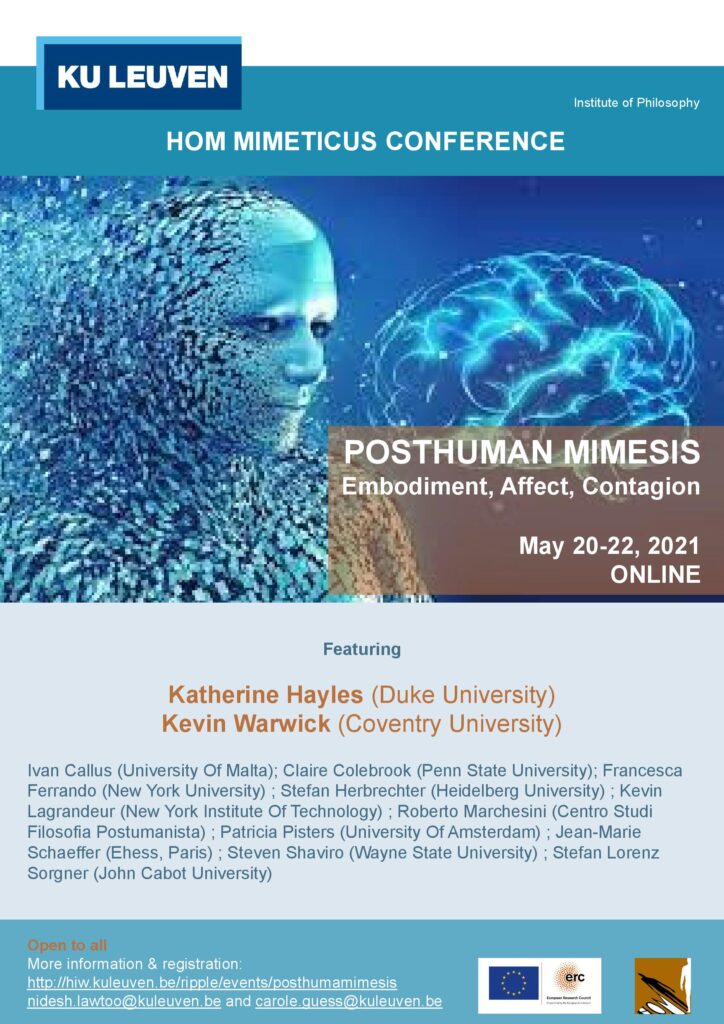 (Neo)Fascismo come Condizione Mentale (N. Lawtoo)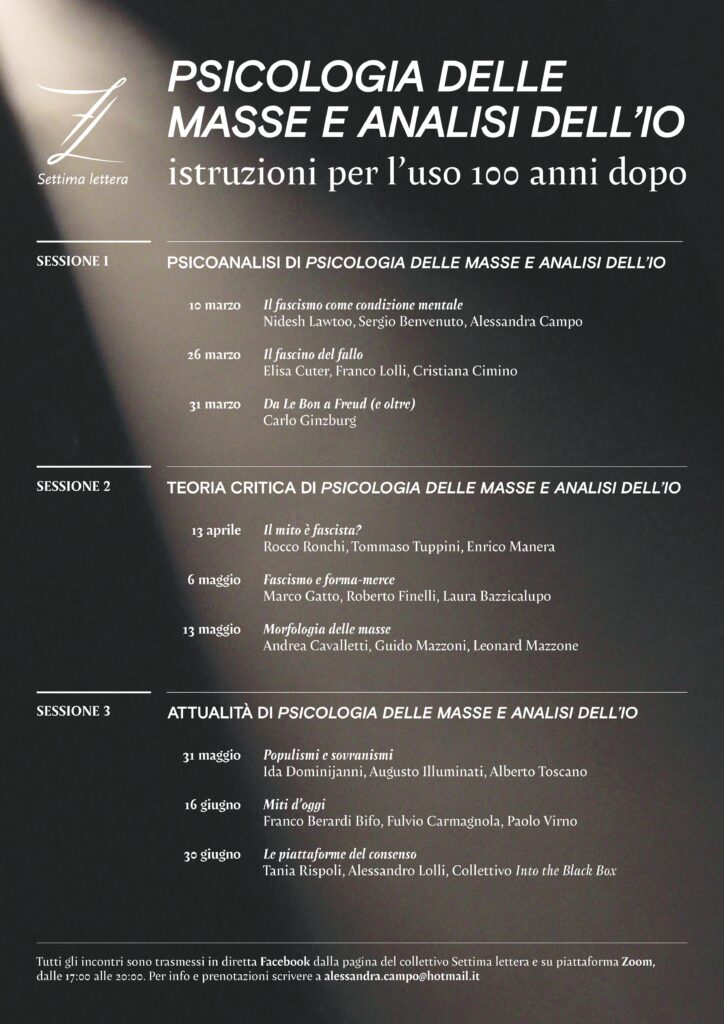 HOM Lecture: Mimetic Umwelts (Carlo Brentari)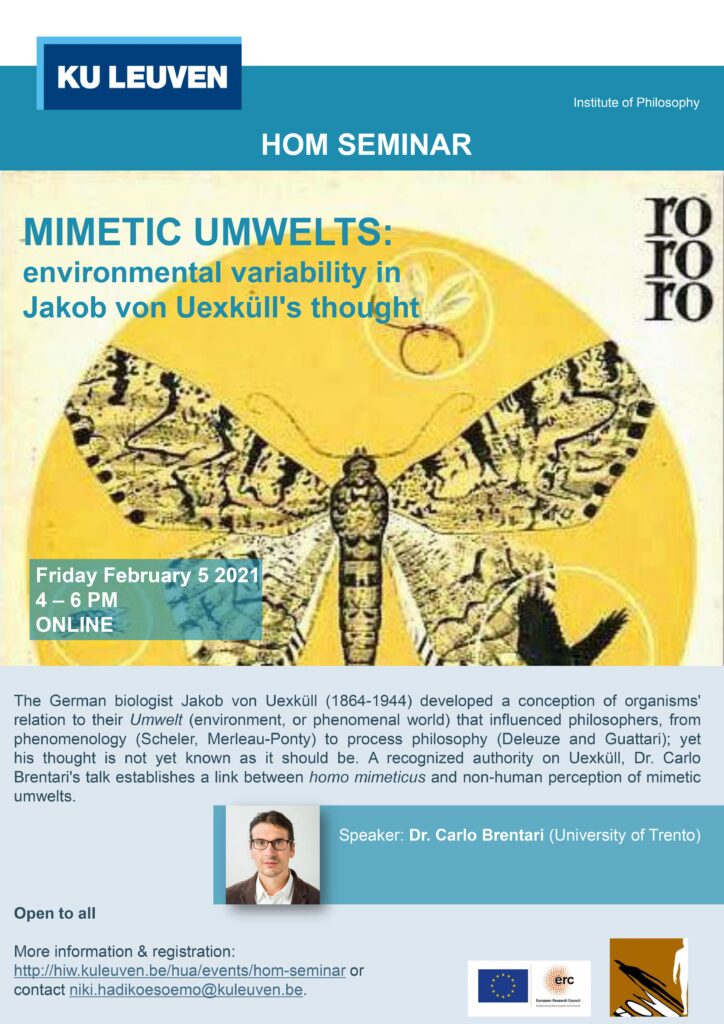 HOM Seminar Reloaded: from Poststructuralism to Posthumanism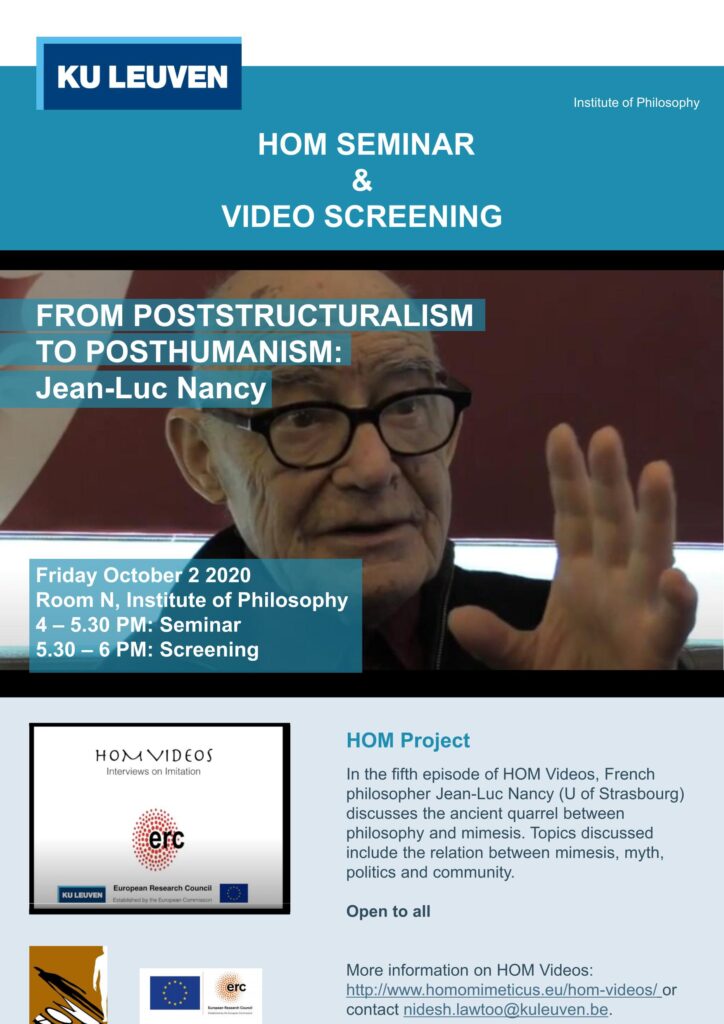 HOM Workshop: The Mimetic Condition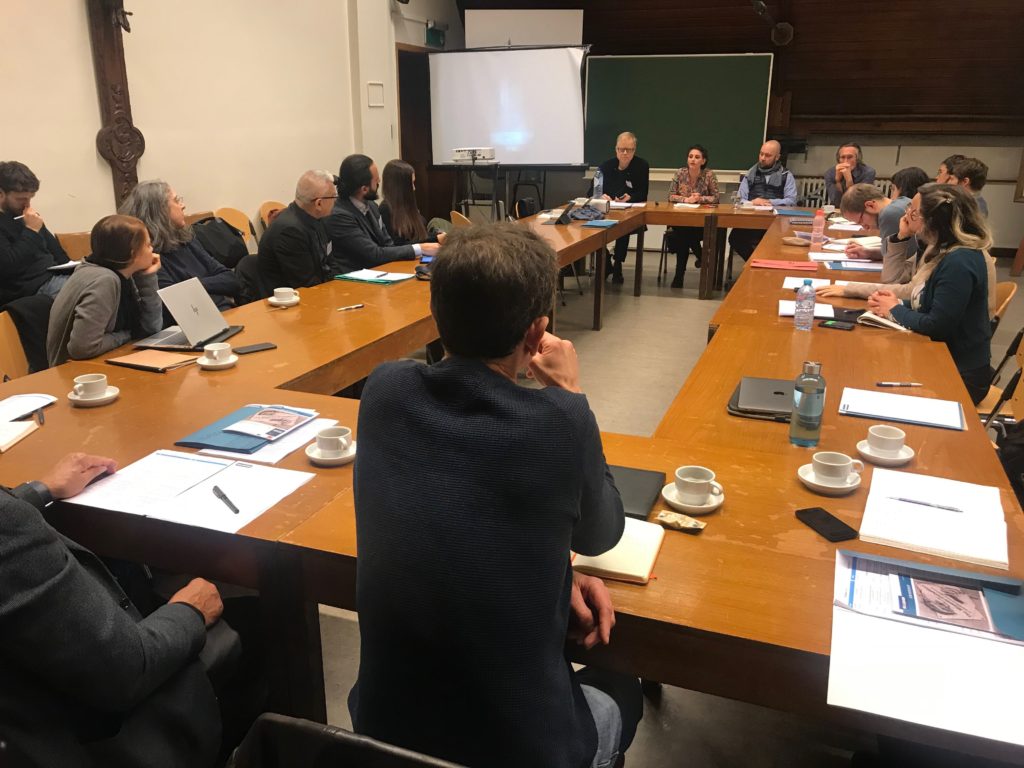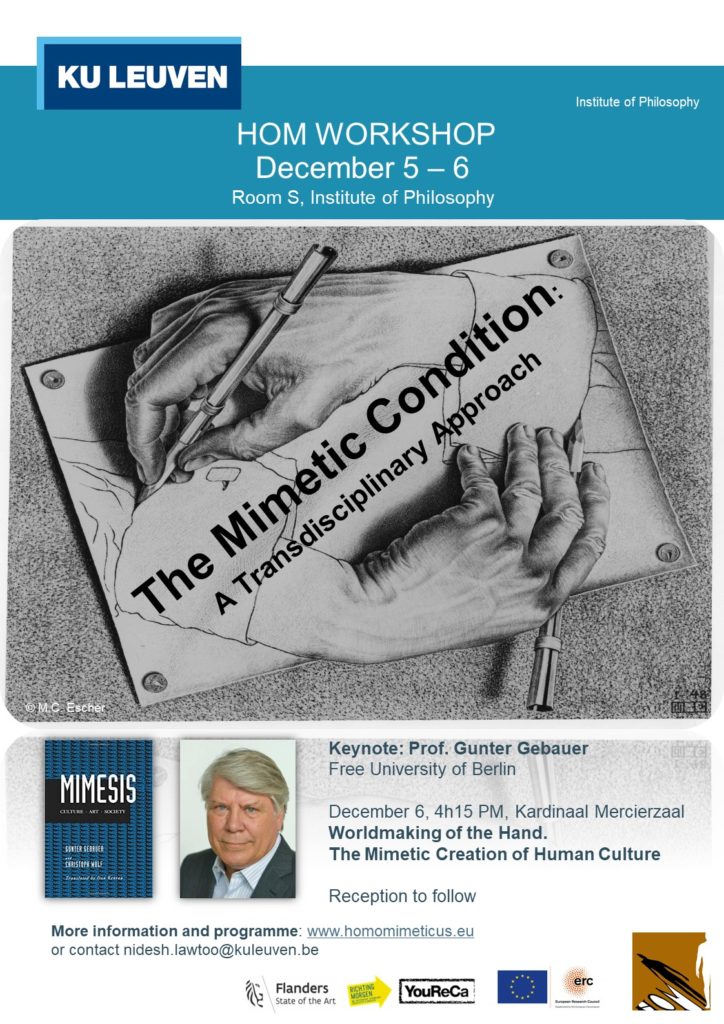 Inaugural Lecture: Nidesh Lawtoo: 'Homo Mimeticus: Sameness and Difference Replayed.' Institute of Philosophy, November 7, 2019, 5-7pm.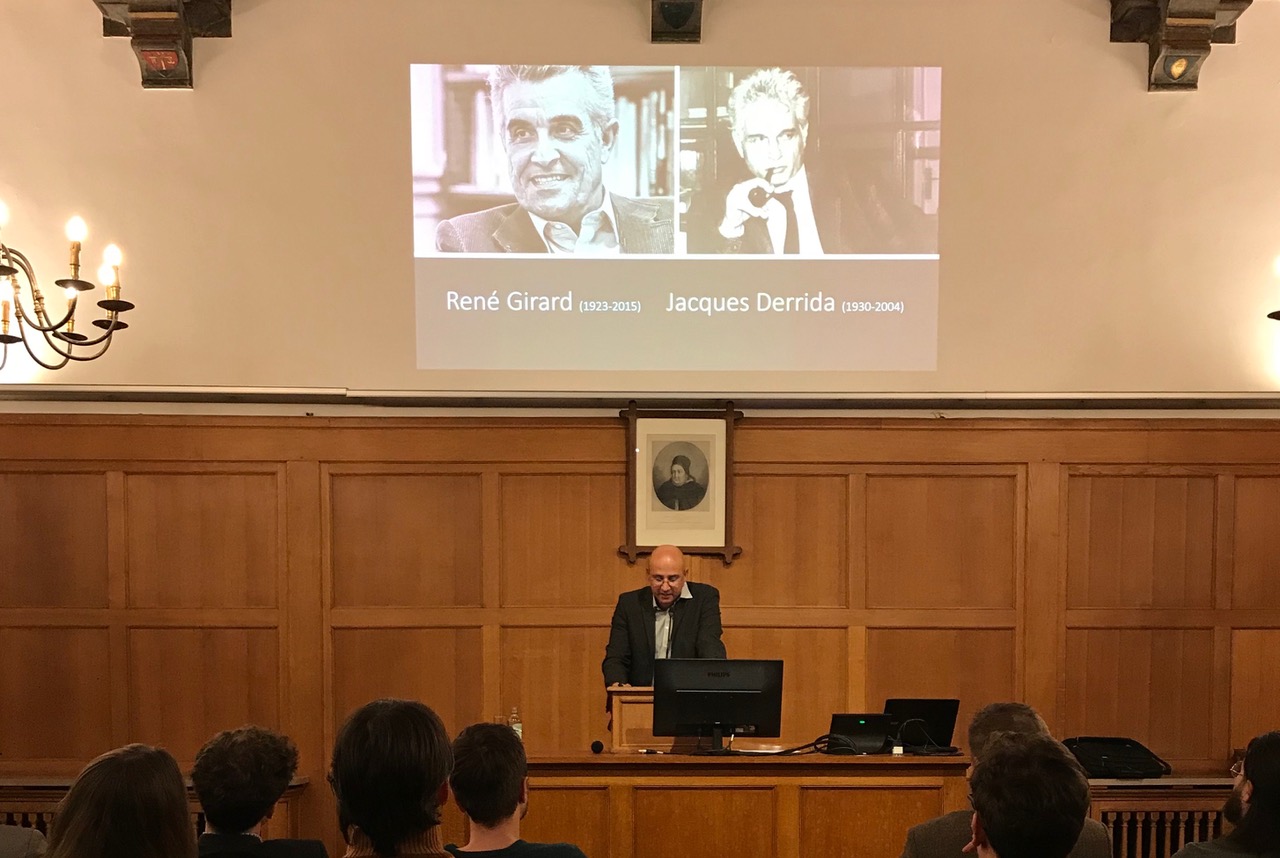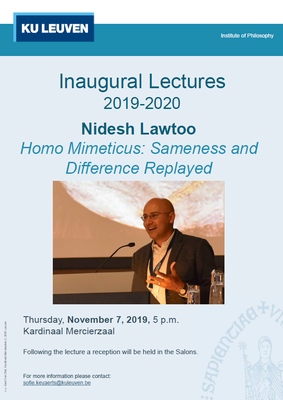 Guest Lecture: William E. Connolly (Johns Hopkins U), Mary Shelley, Sophocles, and the Planetary
In this lecture political theorist William E. Connolly focuses on three diverse thinkers – Sophocles, Mary Shelley, and Bernard Williams. Writing in different times and places they advanced overlapping insights that, if widely absorbed in major Eurocentric theories, may have advanced insights sooner into the unruliness of the earth. Thursday October 10, 5 pm, Kardinaal Mercierzaal, Institute of Philosophy, KU Leuven. Reception to follow. More details here.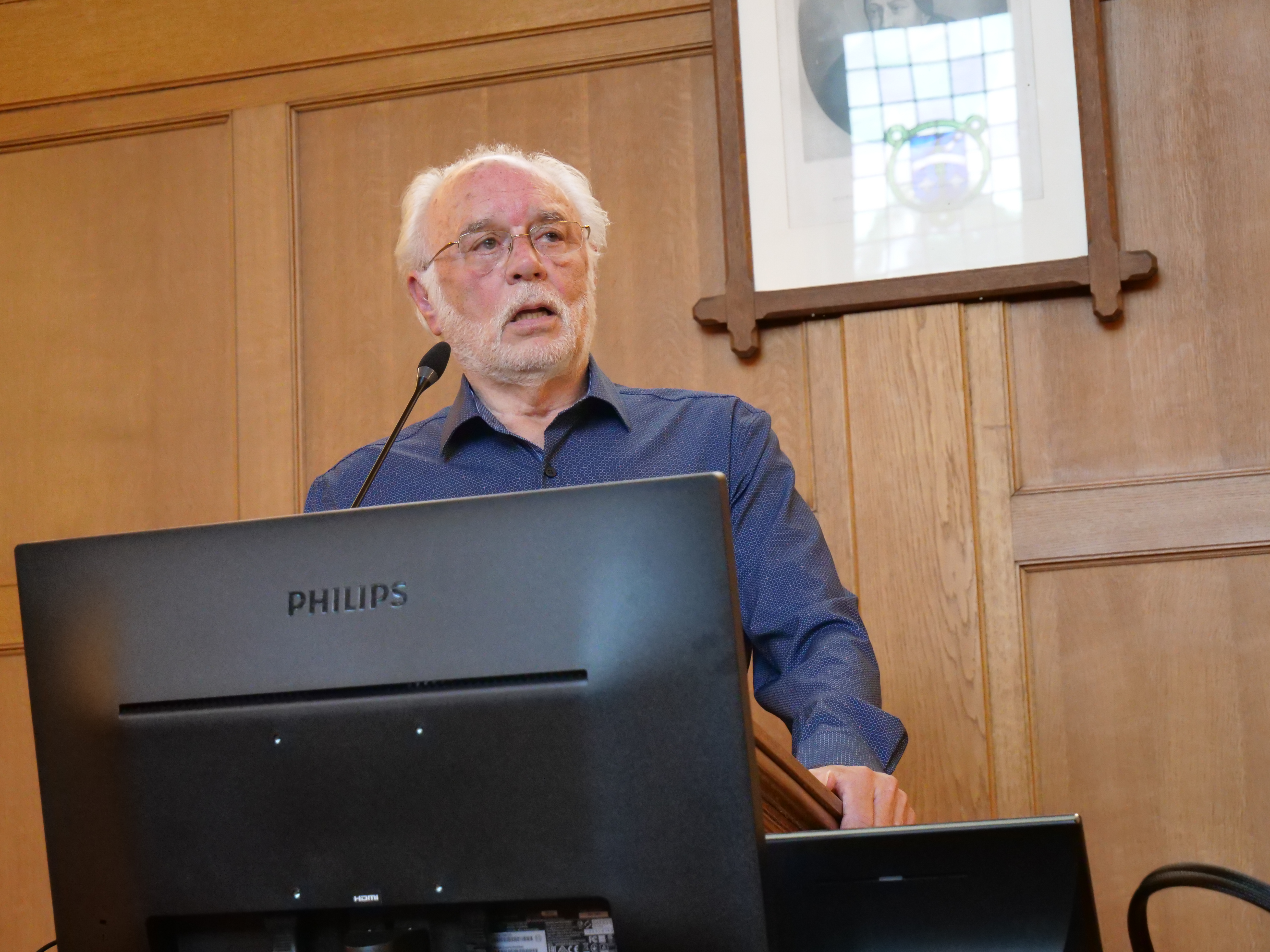 Followed by a HOM workshop on "Mimetic Politics: Swarms and Crowds" on Friday October 11, 10-12 pm.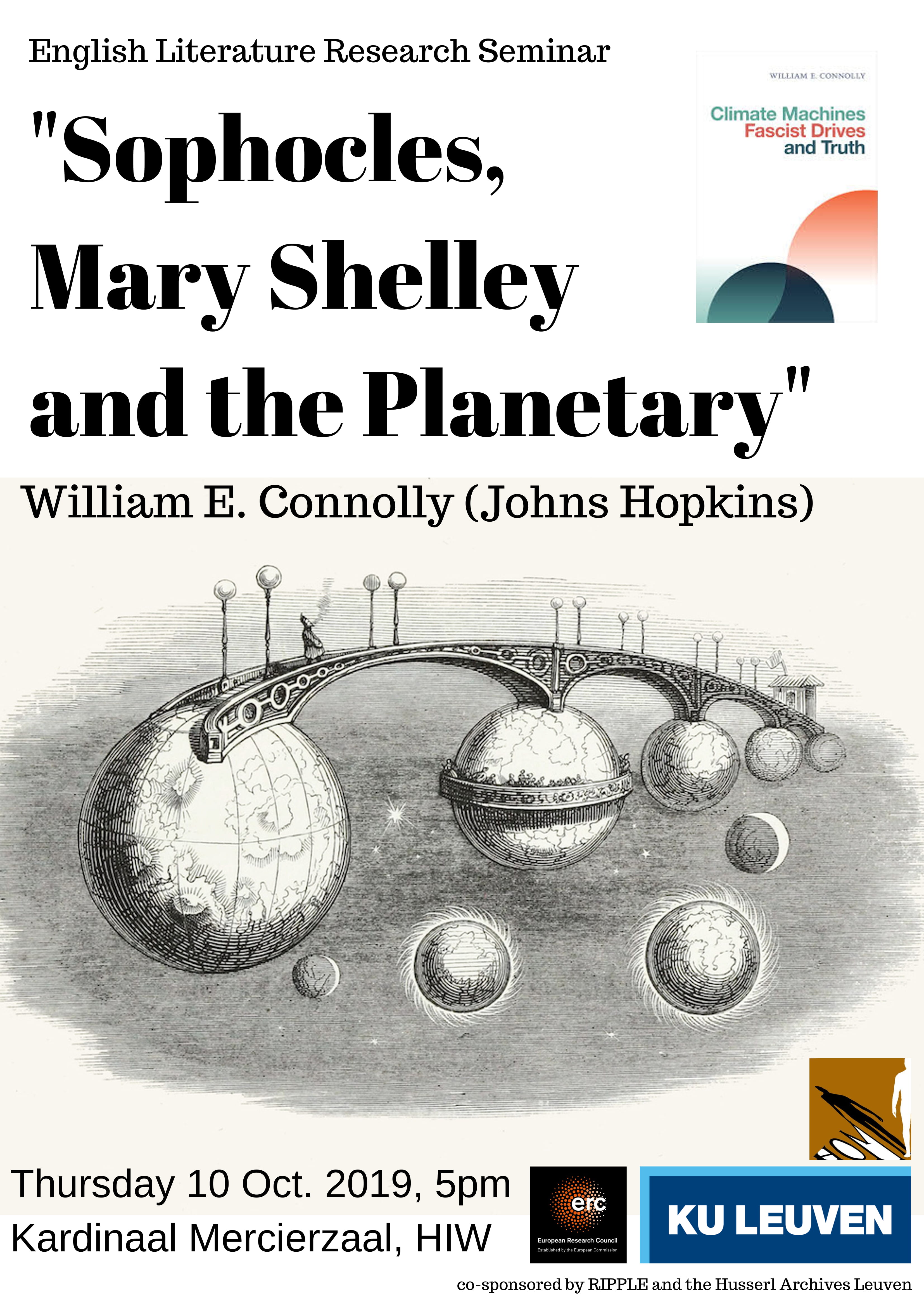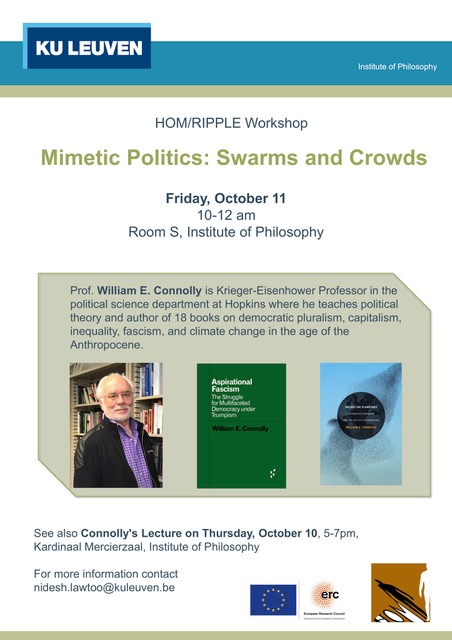 Book-Launch–(New) Fascism: Contagion, Community, Myth by Nidesh Lawtoo (MSU P 2019). Introduction by Dr. Wojciech Kaftanski, 27 September 2019, 3-4pm, Institute of Philosophy KU Leuven. Reception to follow.
More details about the book here.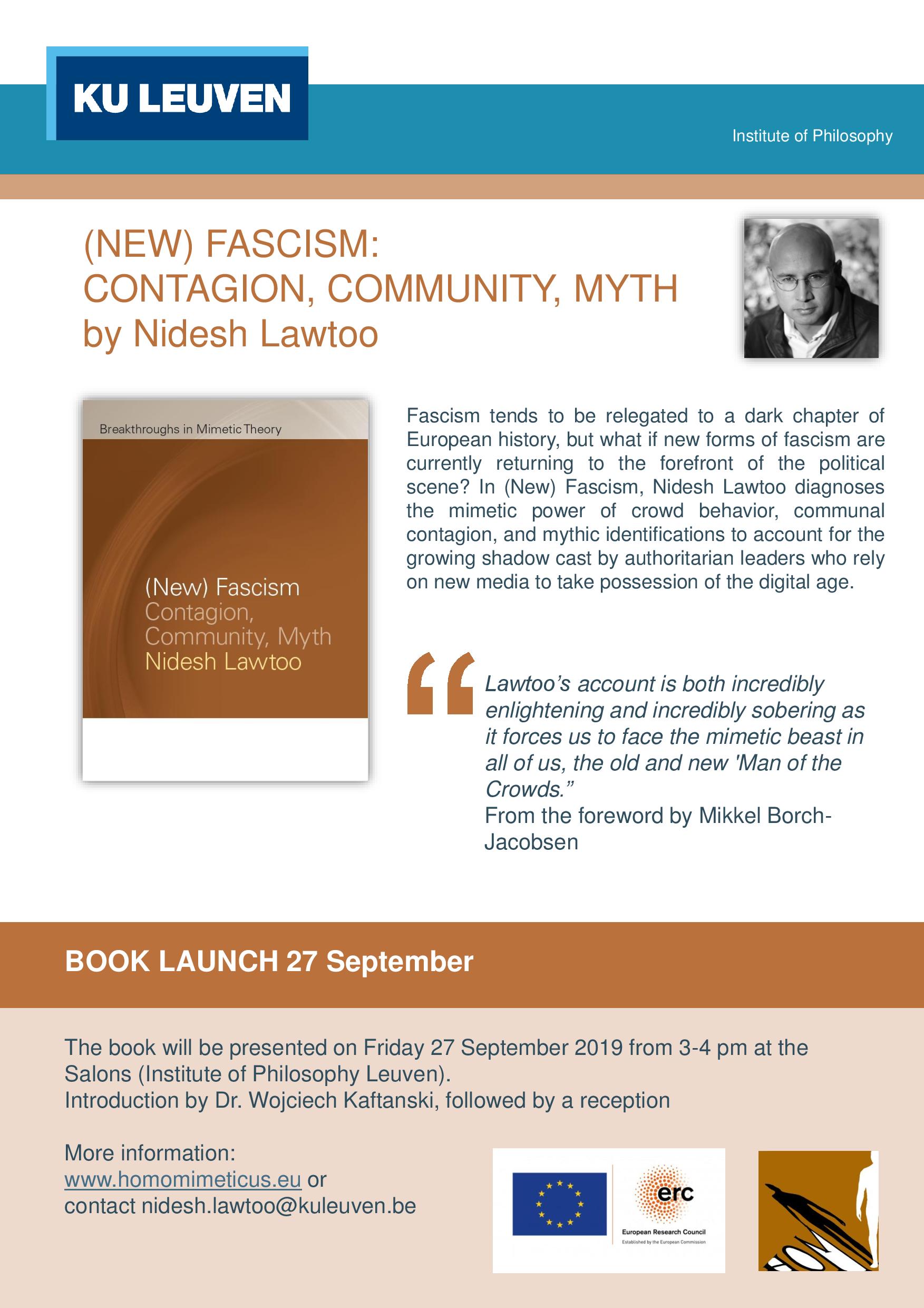 Invited Talk: Jeffrey Hanson (Harvard University), "A Tentative Kierkegaardian Phenomenology of Selfhood: Subjectivity, Repetition and Meaning." 17 September, 2019, KU Leuven. Details here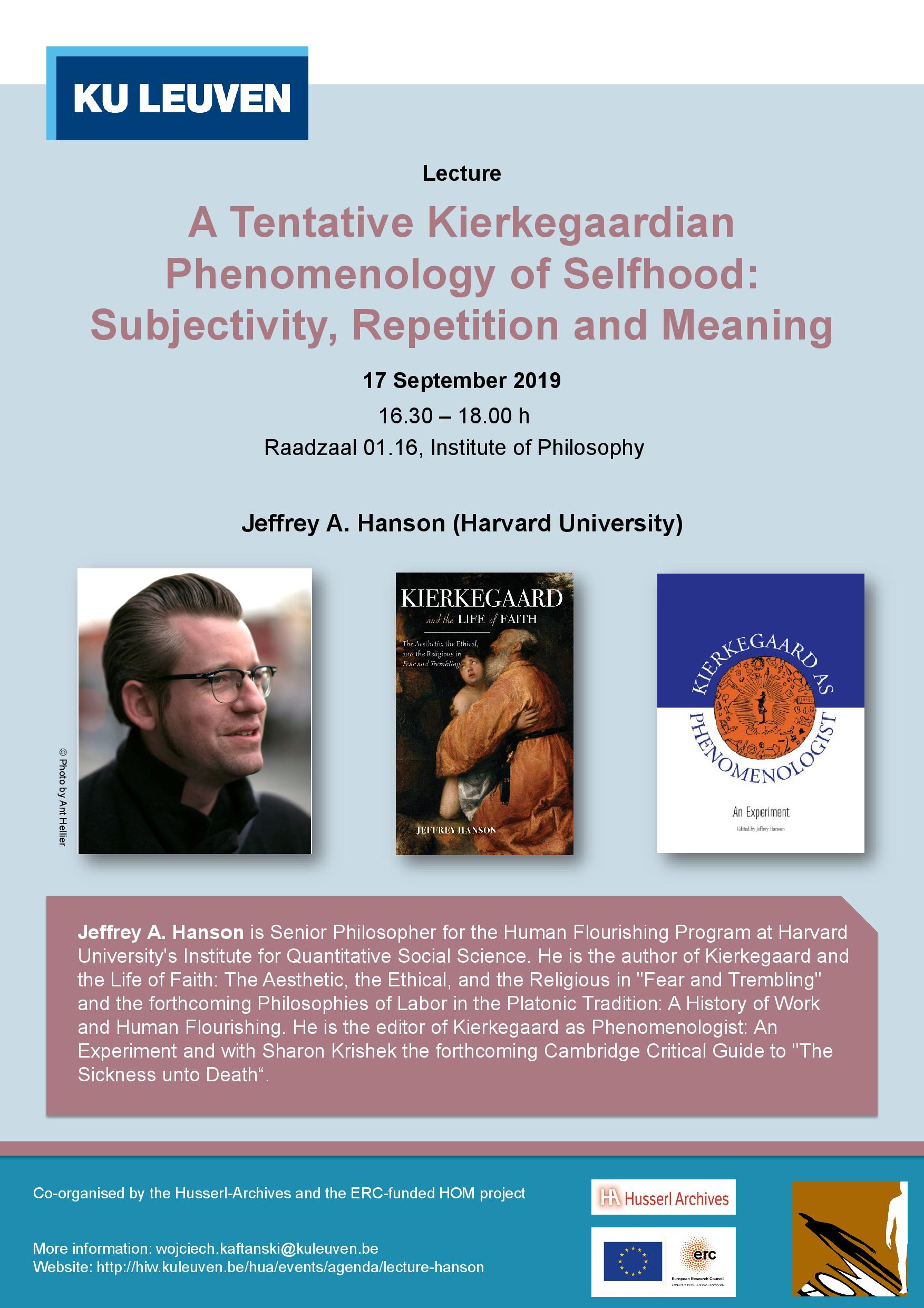 Nidesh Lawtoo gives Raymund Schwager Plenary Lecture, "The Patho-Logies of Exclusion: Mimetic Theory, Crowd Psychology, (New) Fascism," COV&R, Univ of Innsbruck, July 2019.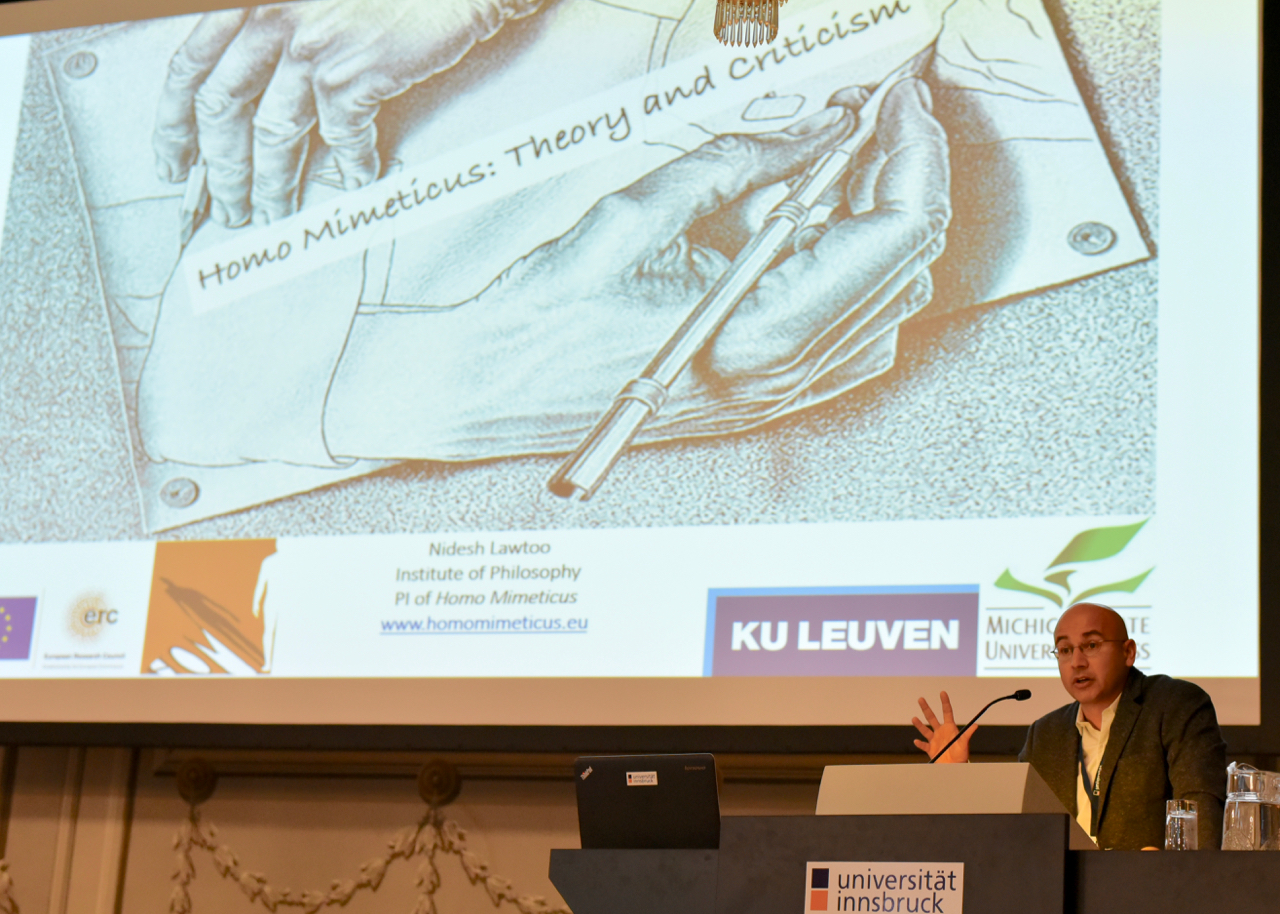 Screening of HOM Videos, ep. "The Critic as Mime: J. Hillis Miller," May 24, 2019, Leuven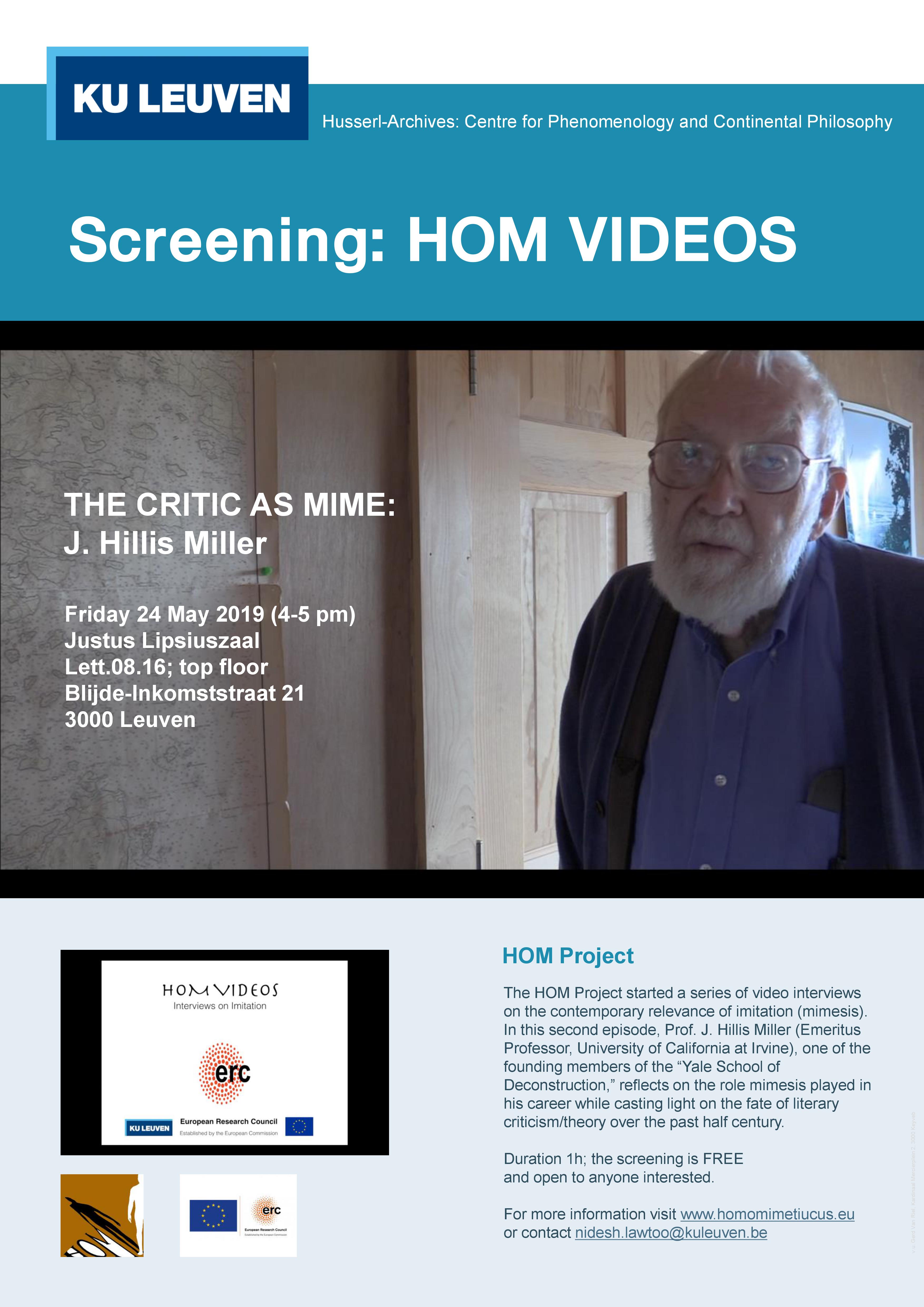 The HOM Team presents a panel on "Mimetic Intoxications" at the Biennial Performance Philosophy Conference in Amsterdam, March 10, 2019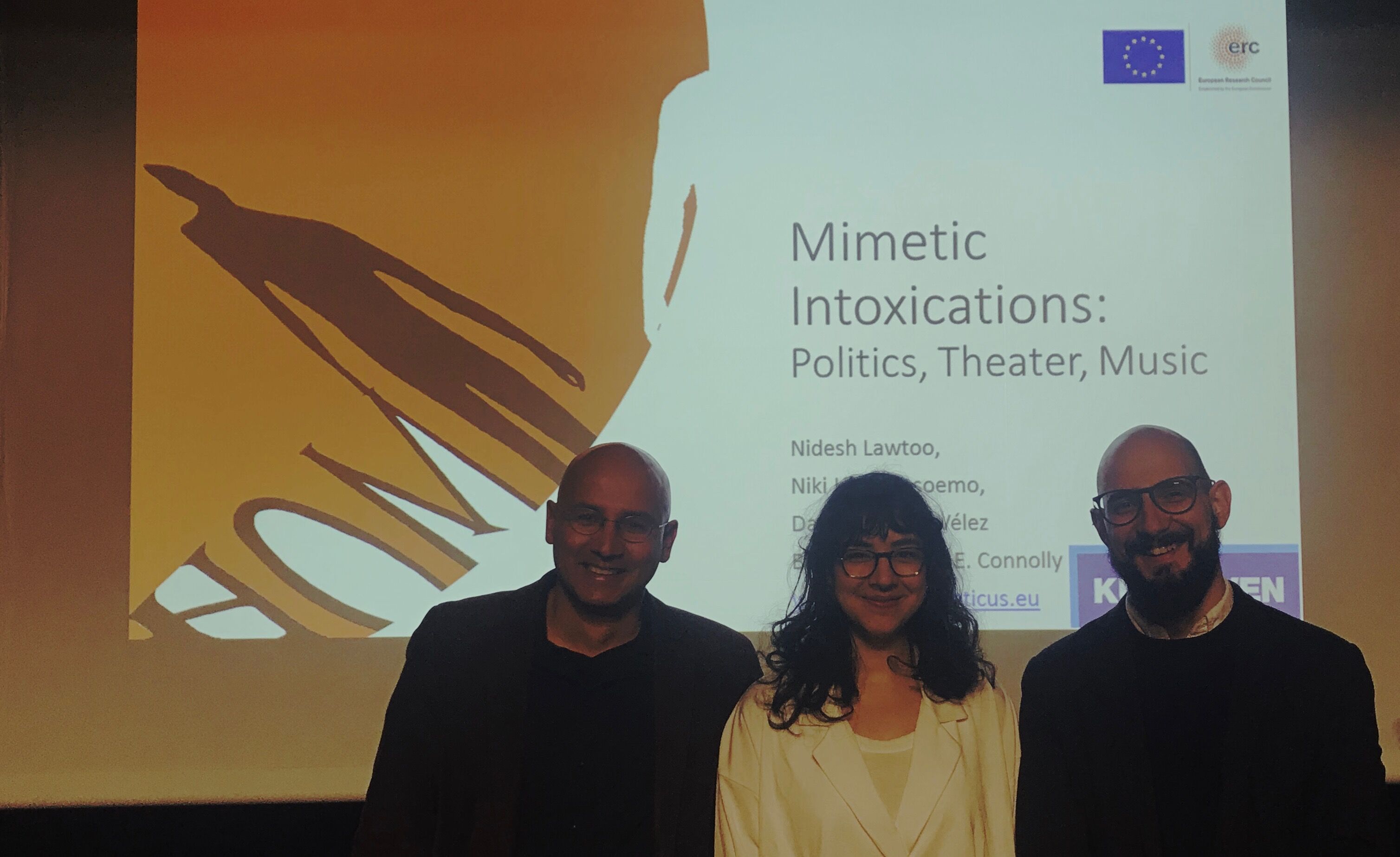 Nidesh Lawtoo's Invited Talk at the Arendt Center in Verona on "The Powers of Mimesis" (introduces Adriana Cavarero) February 28, 2019, University of Verona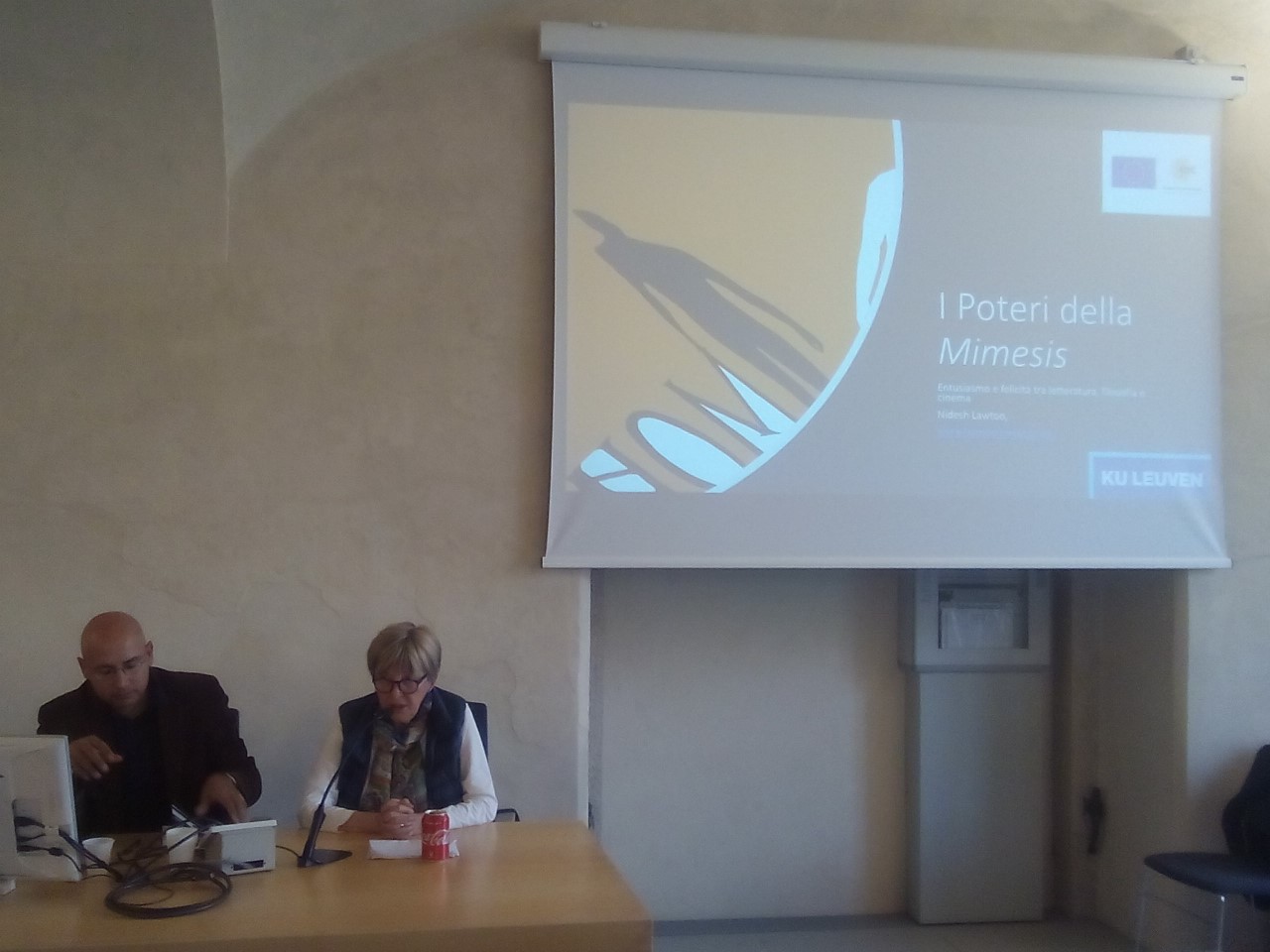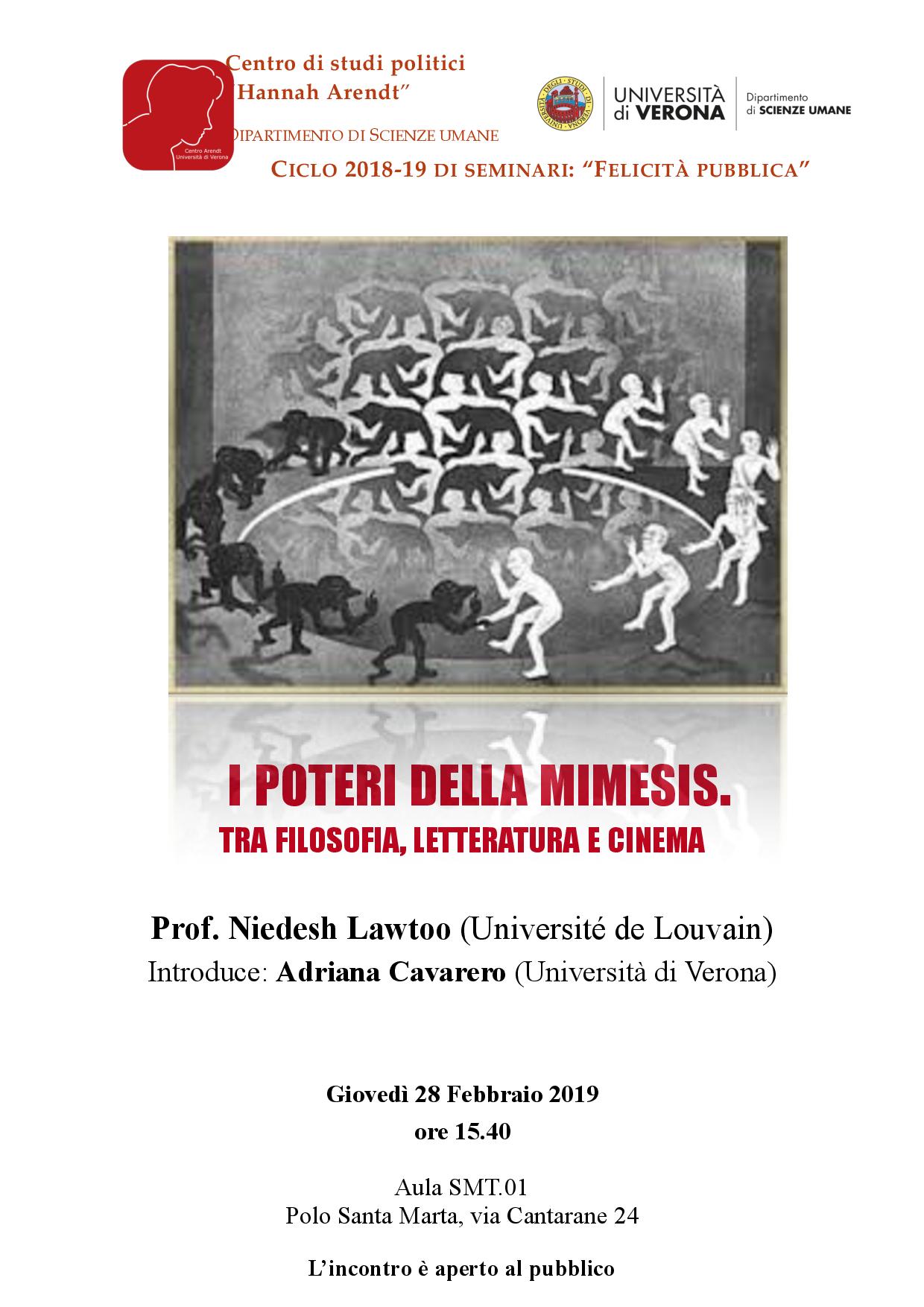 WORKSHOP with Christoph Wulf: The History & The Mimetic Foundation of Social Life
February 22, 2019, 2-5 pm, Institute of Philosophy, rooms S, KU Leuven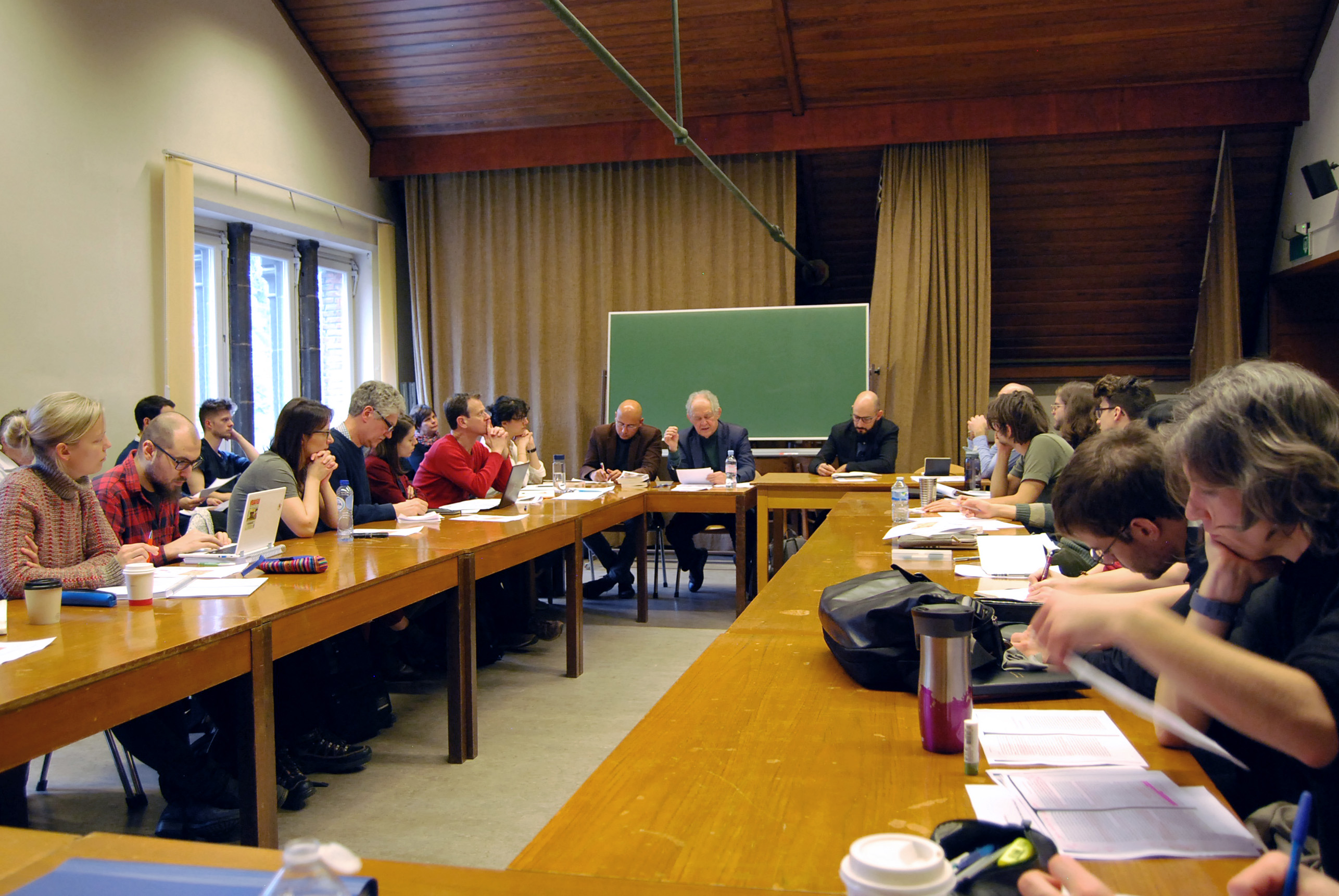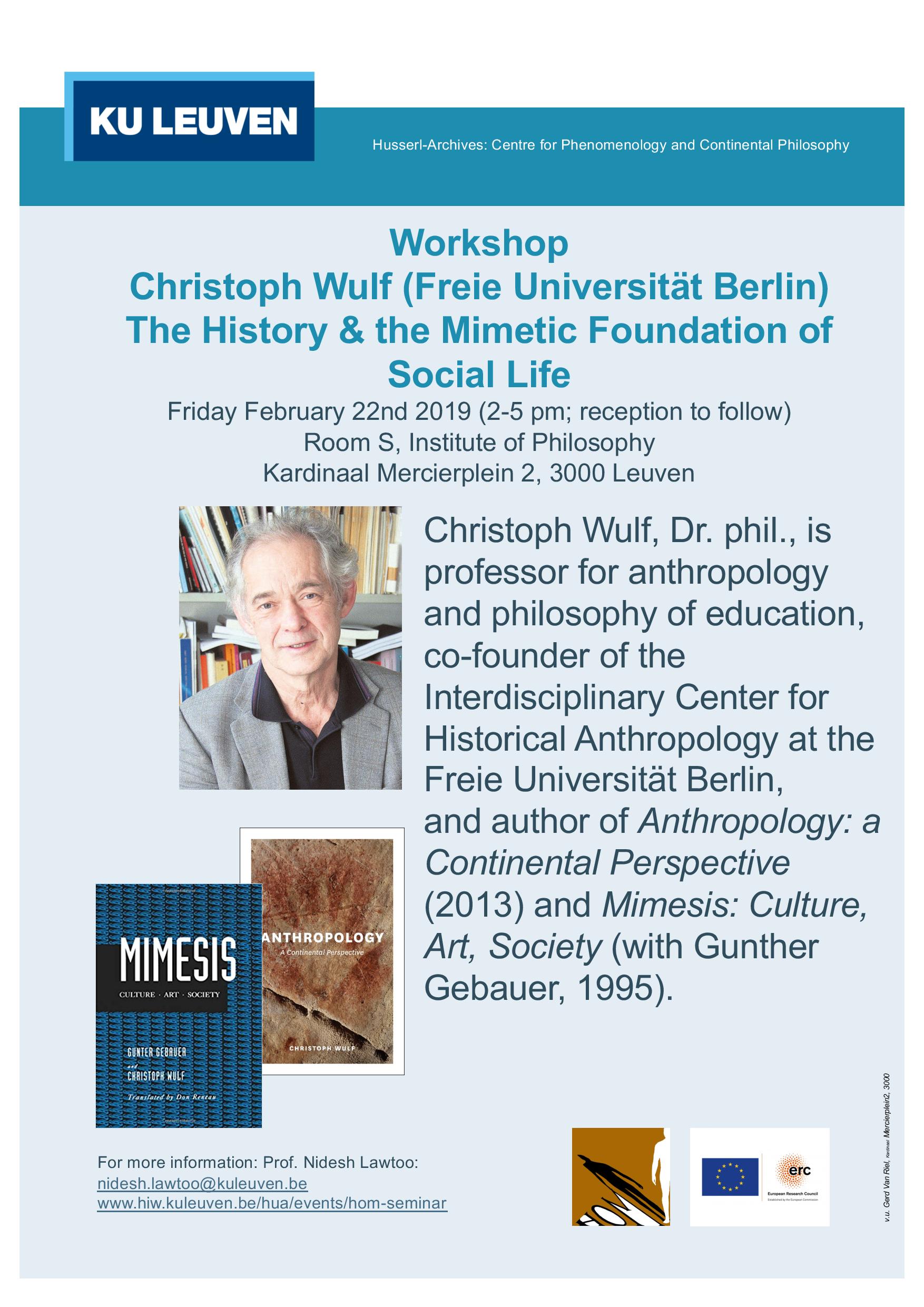 WORKSHOP with Jean-Michel Rabate: Mimesis & Lies
February 6, 2019, 2-4 pm Salons, Institute of Philosophy, KU Leuven.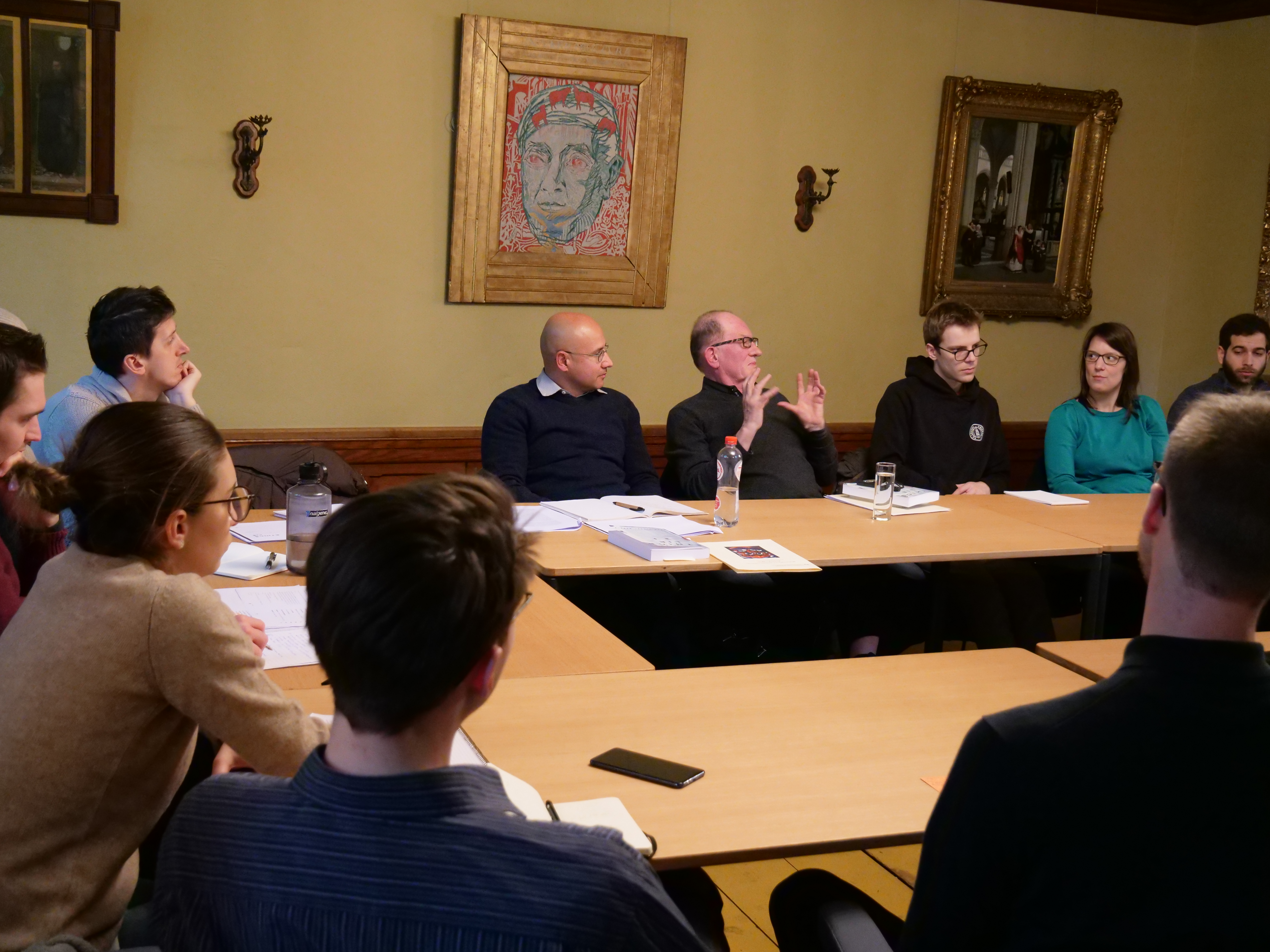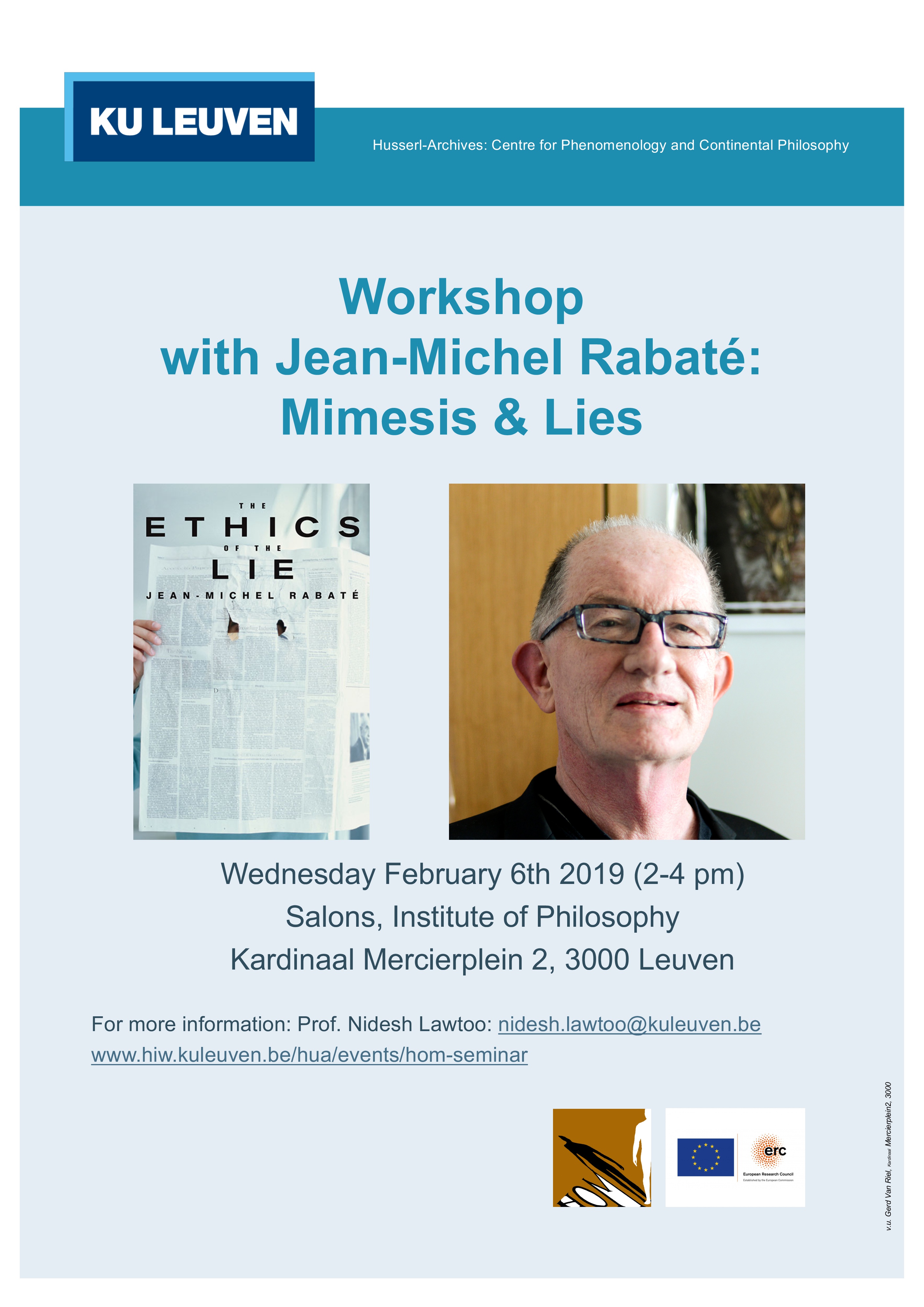 HOM WORKSHOP with JEAN-LUC NANCY: a partir du "mythe nazi"

December 7, 2018, 2-5pm Room S, Institute of Philosophy, KU Leuven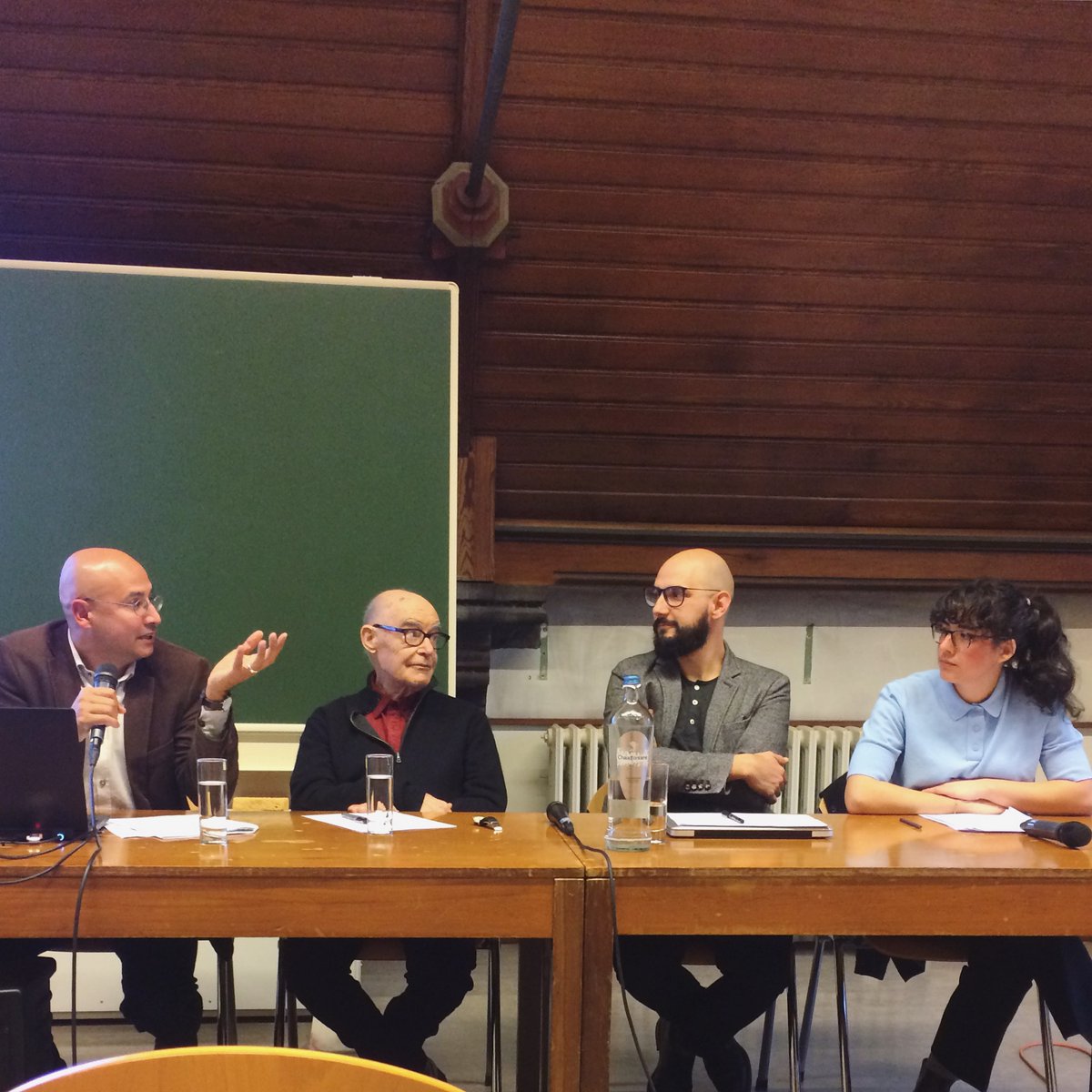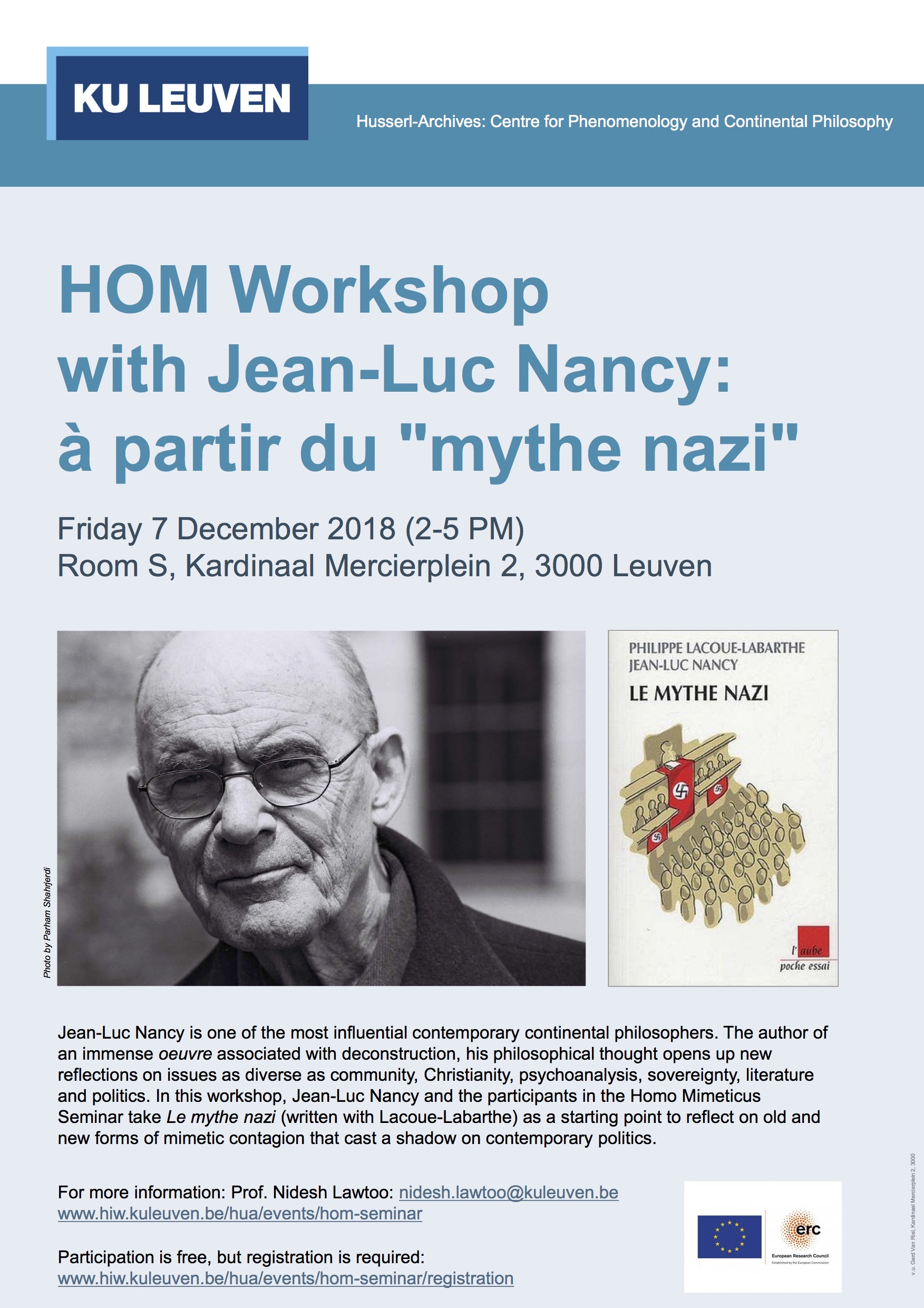 JEAN-LUC NANCY Lecture, December 6, 2018, 6-8pm, Arts,KU Leuven "Bonheur du Jour"
"What does "Bonheur de jour" mean? In the company of Joyce's Finnegans Wake, Jean-Luc Nancy offers a literary-philosophical reflection on the day of a new era."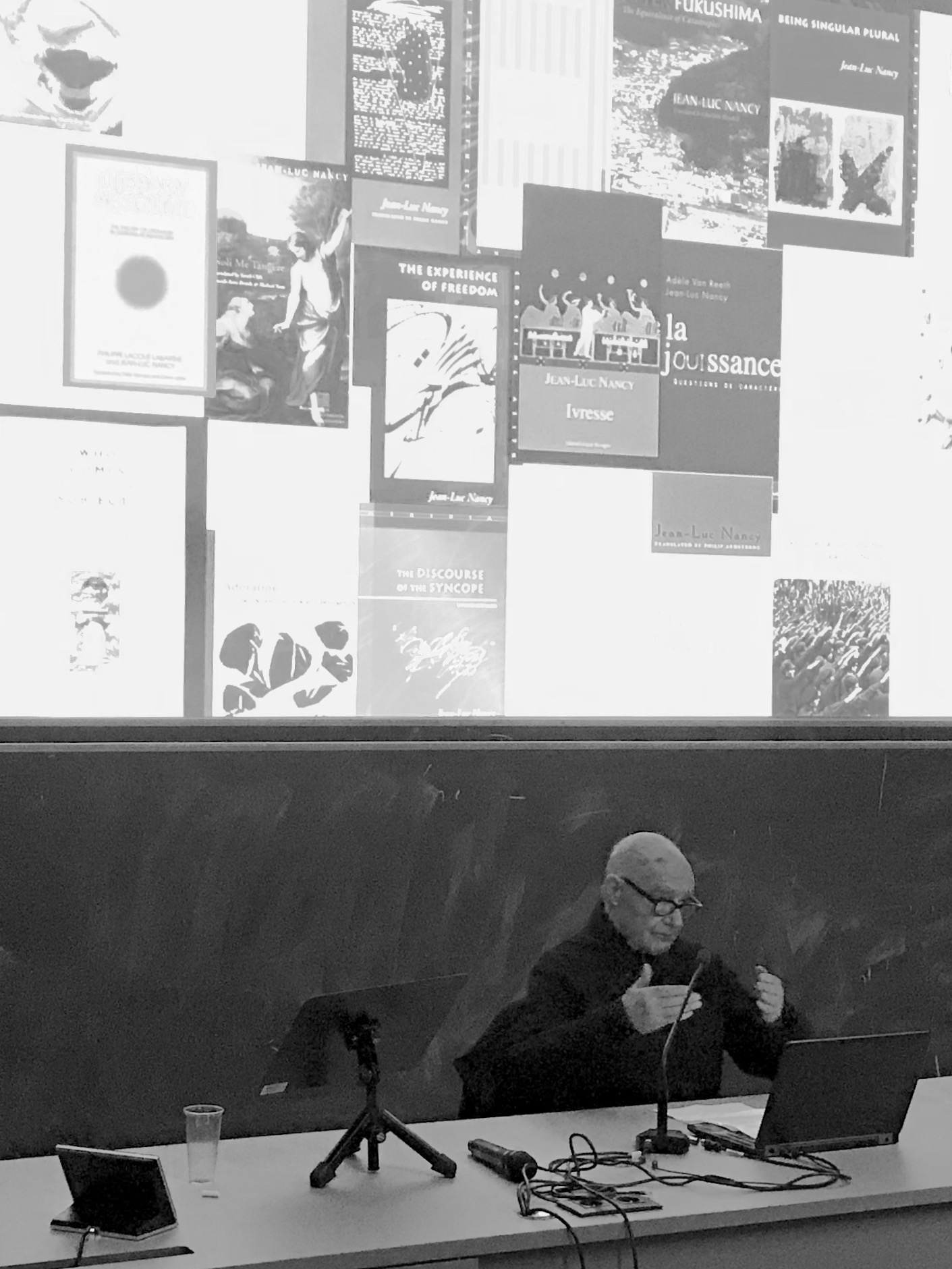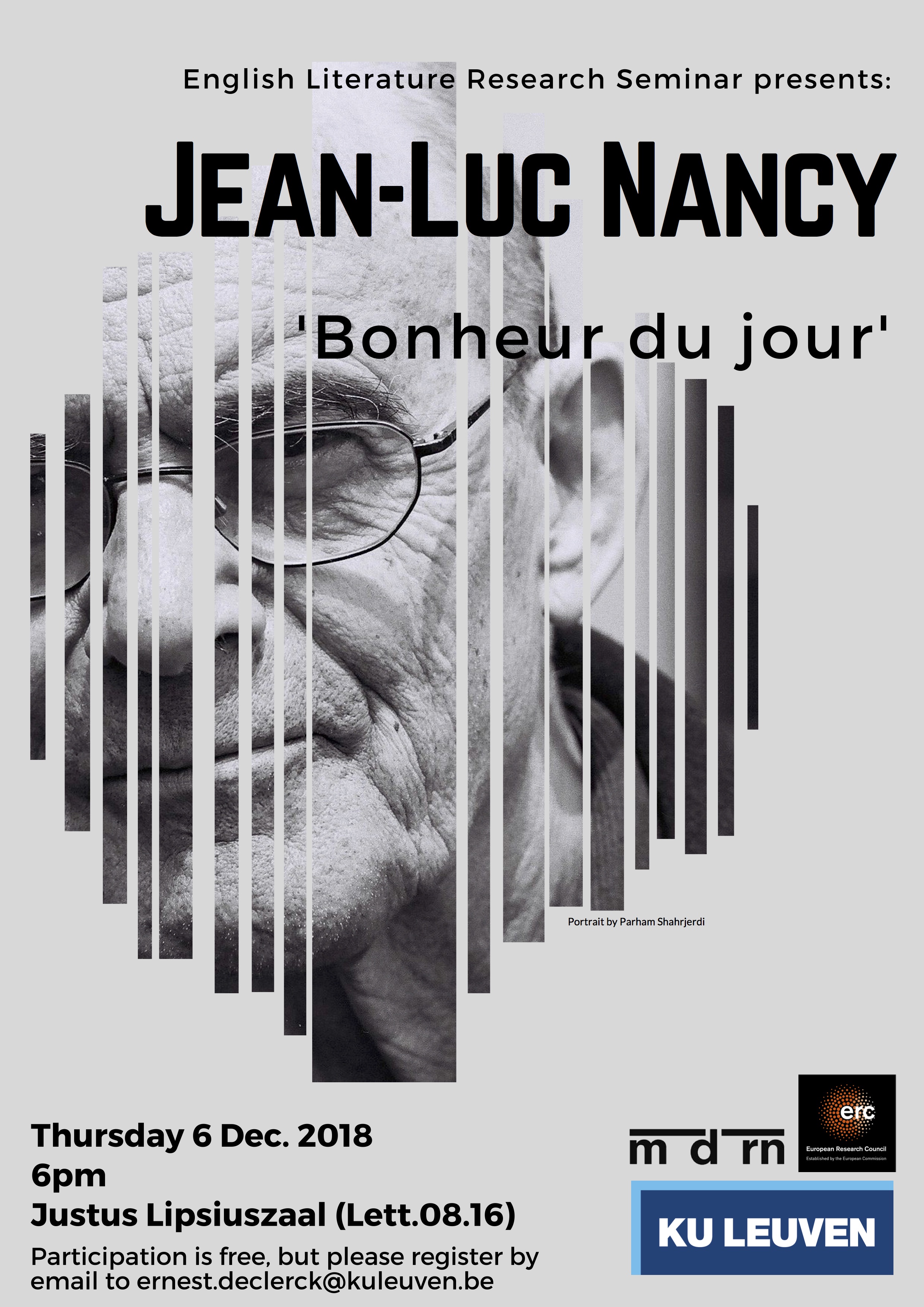 https://www.arts.kuleuven.be/english-literature/events/lecture-bonheur-du-jour-by-jean-luc-nancy
Nidesh Lawtoo Presents the Italian translation of The Phantom of the Ego, Soazza, Switzerland, October 20, 2018
Video: https://www.youtube.com/watch?v=YrAr8sG413U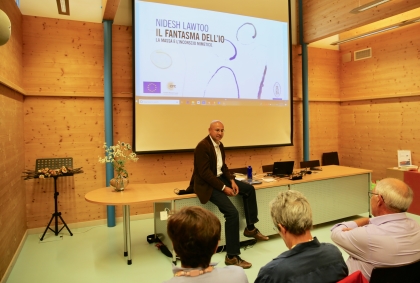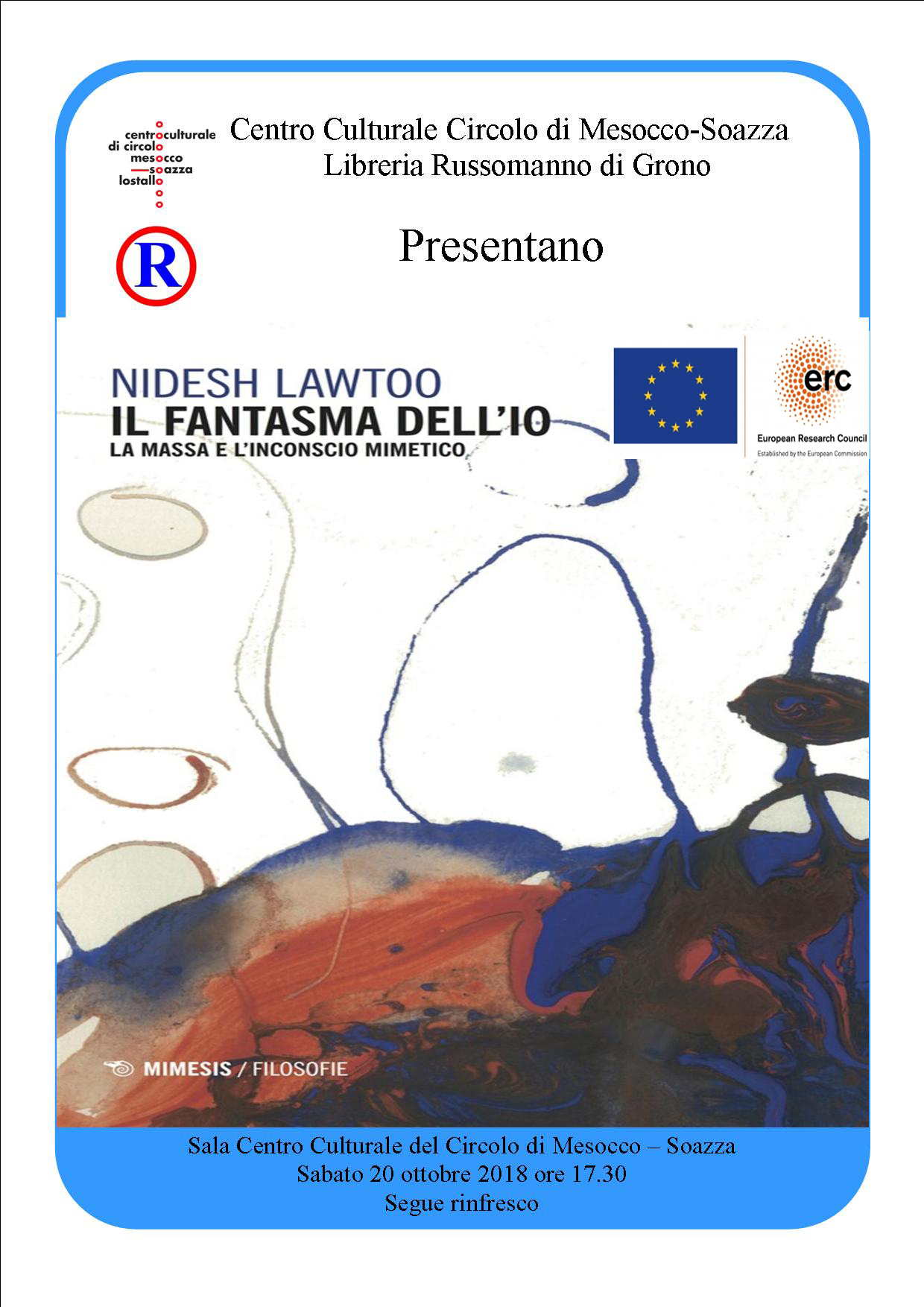 Nidesh Lawtoo presents Il Fantasma dell'Io in Trento, Italy, April 10, 2018.
Moderator Prof. Andrea Brighenti
Presentation of Il Fantasma dell'io by Nidesh Lawtoo at the Libreria Locarnese, Switzerland, April 12, 2018.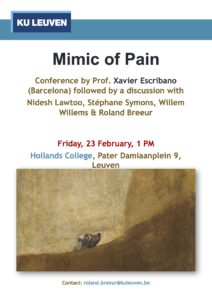 Nidesh Lawtoo, "Mimesis and the Rhetoric of Pain." Presentation for Mimic of Pain moderated by Prof. Roland Breeur.
February 23, 2018, Hollands College, KU Leuven.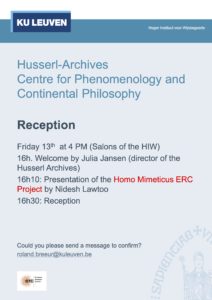 Nidesh Lawtoo presents the Homo Mimeticus Project at the Husserl Archives, September 13, 2017.
Moderators Prof. Julia Jansen and Prof. Roland Breeur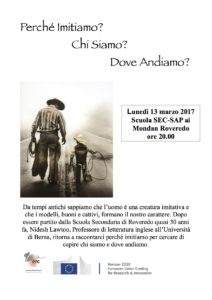 Presentation of Homo Mimeticus Project for ERC Week, March 2017,
SEC/SAP, Roveredo, Switerland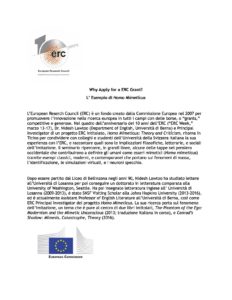 Presentation of Homo Mimeticus for ERC Week, March 2017
Universita della Svizzera Italiana, Lugano, Switzerland.